Copenhagen Entrepreneurship Tour (CET) continues to inspire and motivate future entrepreneurs with what the Danish startup community has to offer, through visits to thriving startups around Copenhagen.
Eggs need the appropriate temperature, environment and care for them to survive incubation and become whatever they want to be. Coincidentally, startups can be seen in a similar light, as they need the right combination of factors such as an enabling environment, the much needed funding and inspiration from thriving startups, amongst other things.
The availability and accessibility of such factors motivate entrepreneurs to take a leap and dive into the startup scene, and who knows what might come out of it.
A place that promotes startups and entrepreneurship is Denmark, with accessible facilities and support from the state that has ensured a thriving startup scene.
Insights into an active startup environment
With vivid examples of startups in advanced stages such as Tradeshift, and with more than 100 employees and Podio that was recently acquired by the US-company Citrix, the Danish startup scene seems very active and poised for great things to come.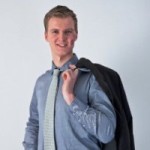 One initiative that is set out to continuously encourage entrepreneurs to take advantage of these possibilities is the Copenhagen Entrepreneurship Tour (CET) that organises a day trips through the Copenhagen area to deep into the local entrepreneurial scene, with visits to startups at different development stage.
Trendsonline.dk had a talk with the entrepreneur and organizer behind CET, Tobias Gebhardt, a German student living in Copenhagen.
"The overall goal of Copenhagen Entrepreneurship Tour (CET) is to get inspired and expand your network to create and develop further your own ideas, concepts and business," says Tobias Gebhardt.
With a day filled with unique experience stories from startups in the early stages such as those at the co-working spaces, Founders House and Rocket Labs, as well as the more established startups like Tradeshift and Podio, participants are able to gain unique insights into all aspects of entrepreneurship that can be applied to their own ideas.
A potential for global impact
Despite clear differences in the developmental stages of the various startups visited, one thing they all had in common is a unique and inspiring spirit. When combined with the other enabling facilities available in Denmark, such can do mentality represents a potent recipe for a thriving startup scene with the potential for global impacts.
In the words of Tobias Gebhardt;
"I believe that the Danish market is a good point of departure to start an own business and to get the proof of concept".
With success stories all around to see from the thriving Danish startups over the years, the CET team hopes that more persons would dive into the world of entrepreneurship and take full advantage of what Copenhagen and Denmark in general has to offer, and pursue their entrepreneurial ambitions.
The participants on the latest trip included students and entrepreneurs with different academic backgrounds and nationalities, so any aspiring entrepreneur could benefit from this inspiring tour.
You can be part of the next edition to by following Copenhagen Entrepreneurship Tour on Facebook.